Tripawds is a user-supported community. Thank you for your support!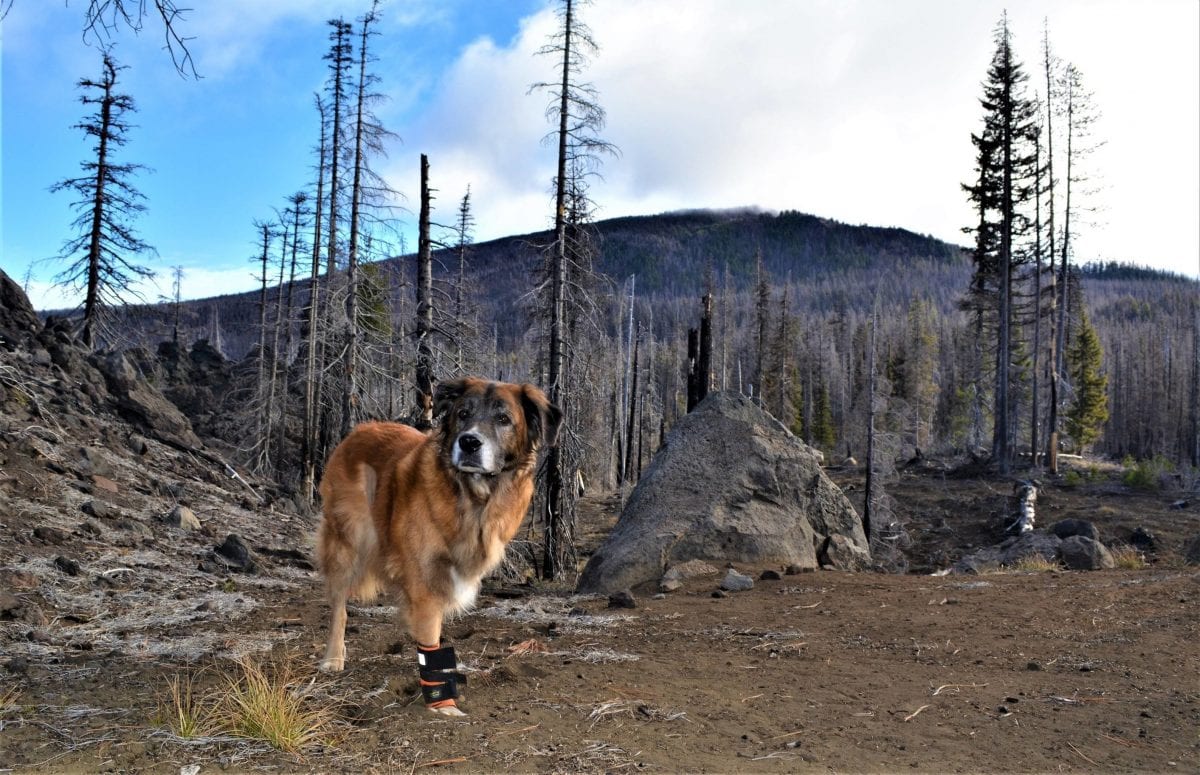 Haven't posted in awhile, and that's good news because Arwen has been doing really great. Her third dose of chemotherapy is tomorrow, and she still has not had any negative side effects from the treatment. No loss of appetite, no GI issues, no lethargy (knock on wood).
We have been keeping her active (but not too active), and we have snow in our area so she is in heaven. (I have had trouble resizing videos to share them on this blog but Arwen does have a public Instagram of arwen_snow_dog if anyone wants to see videos of her). We have a summary from her therapist specifically stating that we aren't supposed to let Arwen sprint. We have only been letting her run fast when Nick holds her harness and runs with her to take a lot of the work off her legs.  But the other day we violated our "not too active rule" and let her sprint through the snow on her own. She runs so fast you can't even tell she has 3 legs. But I would have regretted it had she injured herself so we definitely won't make a habit of it. For now.
The only negatives are that Arwen still has the fatty cyst on her tail that randomly opens every couple weeks and bleeds, but until she is done with chemo her vet doesn't want to discuss removing it, so we have just learned to deal with it and keep it clean. She also has a recessed vulva apparently, and the vet said a sudden drop in physical activity, like Arwen had with her amputation surgery, can aid in yeast and/or bacterial infections, so we are cleaning her vulva area daily with a cream and wipes.
Unfortunately, Arwen's physical therapist doesn't like how much Arwen's right carpal/wrist area is bowing. We never walk Arwen outside without her brace on (it's the Therapaw Carpo-Flex Sports Wrap), but the therapist was saying a soft brace like this can help with support before bowing occurs. But because Arwen's carpal area is bowing more than she originally thought when first seeing her, she thinks we may need to upgrade to a harder brace already. We are waiting to hear back to find out what kind of "hard" brace to get.
We are doing therapy exercises with Arwen daily. Per the therapist's recommendations, we made a 2 inch high foam platform with a yoga mat taped to it that Arwen stands on with just her front leg on it, then just her back legs on it. She also goes into Sphinx pose while laying down with a straight spine, and we have her practice standing up and laying down with no sit position in between and trying to keep her feet planted. We are also supposed to be having Arwen roll over on both her sides as a good core exercise, but Arwen won't roll over. She used to do it and knows how, but she hasn't done it in years and acts like she can't do it anymore. The closest I can get is having her play dead. We'll have to keep working on it.
She's nice and trim now also. At surgery Arwen was almost exactly 100lbs, and last weigh in she was 85.9lbs. She has always been 5 – 10 lbs overweight, but now we are being really good about trying to keep her weight down to keep the pressure off her joints.
The thing I am struggling most with regarding Arwen's diagnosis is her diet. Trying to choose what is the best "cancer" diet for her has been hard. There is so much information from the Tripawd site (which I appreciate) and other resources and it's difficult deciding what recommended changes I want to make. I am definitely cutting out refined sugars and most carbs (breads, white rice, white potatoes, etc.), and adding more whole fruits and vegetables to Arwen's diet. I was unsure what Arwen would and wouldn't go for with veggies. Usually I have to talk her into trying even a blueberry or piece of banana. But lo and behold, I steamed some spinach leaves and carrots and put them over her kibble and she devoured it! I thought I would have to place them in broth but she was fine. I have also started adding mashed yams and apples over her kibble and she loves that, too. I also want to start reducing her kibble and replacing it with cooked meats. (Some owners go for a raw meat diet. We have a lot of experience with this as we had a cat with severe IBD and he ate raw meat for the last 2 years of his life, but we have currently decided to not do this for Arwen.) This is all a learning process for us and I have some canine recipe books in mind from veterinary nutritionists.  I am sure I will get more comfortable making choices as I go.
Here's hoping Arwen has a good chemo appointment tomorrow! She is terrified of the vet, so I will spoil her afterwards, though spoiling is just a daily habit in our home with such a sweet pup.