Tripawds is a user-supported community. Thank you for your support!
Arwen is doing well and it looks like the mystery wound that developed on her right side is healing fine. The vet said that we can start chemo as early as this upcoming Thursday, but I am now thinking we may want to wait just one more week. I want to be completely sure her wound is fully healed before her immune system is compromised. Also, my husband and I fear we may have overlooked a UTI infection in Arwen. She held her urine A LOT the first 72 hours after her amputation surgery, and she was licking her groin a lot in the days that followed. There was also some discoloration down there which I thought had always been there. But now that it's going away I realize my mistake. However, she was put on Cephalexin for the wound on her right side, which also coincidentally treats UTIs. So she may have been accidentally healed. But we have asked the vet to test a urine sample of hers to be sure.
We are so proud of Arwen's progress on three legs. She isn't even a month post-op yet, and she is doing so well getting around as a tripawd. We are forcing her and ourselves to take it slow, though. We would hate to over-work her right front leg. Since she was cleared to go off bed-rest (just over 2 weeks post-op) we have been taking her out every other day for very short quarter mile walks. But when she first gets to a hiking spot she just wants to run. Sometimes, my husband takes a hold of her harness handle and they do a quick burst of speed together, him supporting her the whole way. But she's happiest when we allow her to do her own thing and don't fret over her. She is clearly uninterested in our preconceived notions about what she can and can't do, and just wants to go back to being a happy, active dog.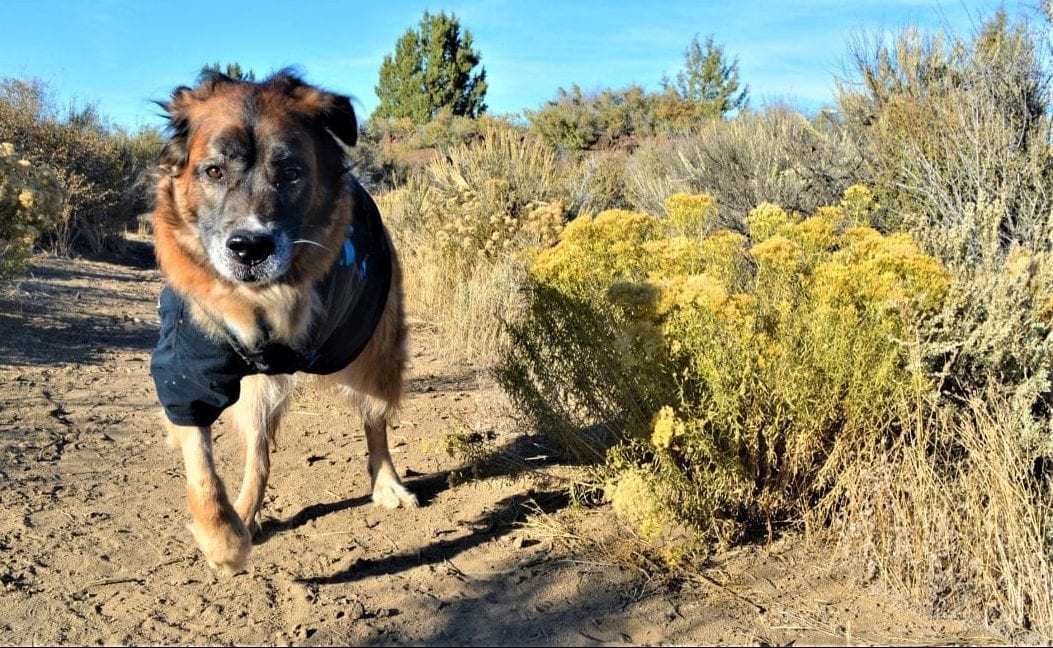 I wanted to mention that Arwen is finally about to be off all her prescribed medications. She has been on anti-inflammatories and pain killers for weeks (Vetprofin, Tramadol and Gabapentin) and then anti-biotics for about 2 weeks (Cephalexin). She has also been on glucosamine for months. But I decided to put her on K9 Immunity supplements, too, which I have heard some other pets in the Tripawd Community are on.  It is a mushroom-based immune enhancement supplement from Aloha Medicinals. I showed the bottle to Arwen's oncologist, who basically told me it wouldn't hurt to use, but may not help. However, I am willing to do whatever I can for Arwen's health. I am using slightly less than what is recommended for a dog Arwen's size (she would be on 8-9 tablets per day which seems like a lot while she is on other meds, so I am giving her 4-6 per day). Just noting this for other parents like me who are interested what people are doing supplement and nutrition wise for their osteosarcoma pets. I have not changed Arwen's diet yet, except to add more wet food (purely for the purpose of spoiling her). But I am interested in adding more turmeric to her diet for it's cancer-fighting properties, and I found some recipes for turmeric dog treats on the internet which I am going to try out this week.
Much love to everyone going through the same thing we are! And continued thanks for all the love and support!